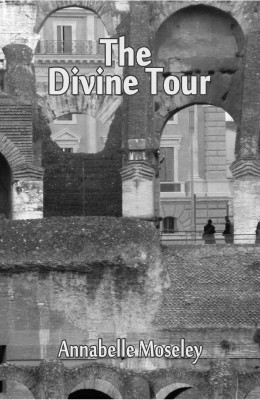 June 19, 2012: Annabelle Moseley's The Divine Tour is now available for pre-sale from Finishing Line Press. Pre-sale ends August 3, 2012, and the expected ship date is September 29, 2012. Visit Finishing Line Press to order your advance copy!
About The Divine Tour
Inspired by the art, culture, and mythology of Italy that Moseley encountered on a two-week trip from Venice to Rome, this is a collection of mostly free verse, but includes a villanelle and a pantoum.
The poems that comprise The Divine Tour, by Annabelle Moseley, explore not just Italy and many of its art works, they also create "the great potential, the theories of enormous depth" that reside in such places which are, "half-real, half-imagined." Myth, allegory and metaphor give rise to poem after poem as formally elegant as the divine tour Moseley takes her readers on until we, too, are willing to be in "the willing loss of what comes next." A beautiful achievement!

–Elizabeth Kirschner
Annabelle Moseley begins a mythic journey riding on the back of a swan and ends up as Daphne transformed into a tree. Tour and museum guides stand between her and the European art she loves and craves to enter fully—just as she yearns for love's fulfillment. In these lush, deftly controlled poems, she dramatizes a universal need to break through barriers that limit our spiritual growth.

–Norbert Krapf
Let Annabelle Moseley be your guide on this divine poetic tour of major works of art and significant places in Italy. She knows firsthand Da Vinci's drawings and the paintings of Masaccio and Fra Angelico, Florence in the rain, the Fountain of Joy in Siena, and the Bridge of Sighs in Venice, as well as the pleasures of Italian cuisine, the Tuscan countryside, and a sunset in Assisi. And as a skilled poet, she knows how to depict these treasures in flowing free verse and such pleasing forms as the pantoum and the villanelle. In the title poem, Moseley invokes Dante as her guide, but has "a thing or two" to tell him. In The Divine Tour, as our guide, she has many rewarding things to tell us.

–George Held