Available to Enliven Your Parish Group or Faith-Based Event … Your Tour Guide of Wonder
Prof. Annabelle Moseley is an energetic and engaging speaker available to lead retreats, speak with your church group, or give a presentation for your parish center or Catholic Conference on various exciting, faith-based topics. Professor Moseley is not only an academic with multiple degrees, but a warm, witty, and profoundly moving speaker. She's a proudly Catholic wife and mother and devoted daughter of God.
She looks forward to meeting your parishioners, participants, or students!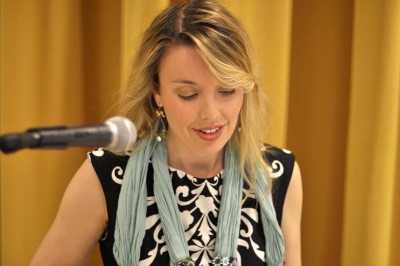 Available Topics Include
Desert Bread: Where Faith and the Arts Sustain
Of Roses and Thorns: Retreat with our Blessed Mother
The Rosary: An Exciting Pilgrimage through the Catholic Arts
Lectio Divina: Deepening Your Bond with Scripture
Our House of the Sacred Heart
Destination: Sainthood
Motherhood as Art and Prayer
Made for Another World: Holy Longing and Free Will in the Works of C.S. Lewis and Annabelle Moseley
God's Grandeur: Catholic Poetry
Testimonials
Annabelle Moseley's presentation was special. I remember many years ago a Trappist monk telling me that "sometimes we pray best when we don't know we are praying". Felt like we were praying all night. I have been involved in teaching and ministry for over 35 years and have never met anyone with the unique gifts that she has.
Anthony Marinelli,
Director of Emmaus Group, St. Patrick's Church, Huntington
People say that life doesn't come with a handbook; Annabelle proves otherwise… her talent guides you into the stories of your own life … helping you find comfort and joy through reflection and prayer. Brilliant!
Louise T.
Participant of the 33-day Consecration to the Sacred Heart
Professor Moseley spoke at St. Joseph's Parish in Babylon. To call her an amazing speaker does not do her justice. While she is an academic, her approach is so faith-filled that a listener cannot help but be moved to greater faith and action. Also an accomplished and recognized poet, at the end of her talk when she read several of her poetry selections the crowd audibly gasped, riveted at the conclusion of her poem about John the Baptist and the spirit of repentance and baptism it evoked. WOW! Enlightening, moving, and faith-inspiring.
Vincent C. Tenety
JD, St. Joseph's Parish Adult Enrichment Group, Babylon
Annabelle has presented at venues, as varied as
The Sheen Center for Catholic Thought & Culture, Manhattan
The Seminary of the Immaculate Conception, Huntington, New York
Our Lady Queen of Martyrs Parish Center, Centerport, NY
St. Patrick's R.C. Church Parish Center, Huntington, NY
St. Joseph's Seminary, Dunwoodie, New York
St. Joseph's R.C. Church Parish Center, Babylon, NY
The National Museum of Women in the Arts, Washington, D.C.
The Walt Whitman Birthplace, West Hills, New York
West Chester University Poetry Conference, West Chester, PA
Poet's House, New York
AWP Conference, Washington, D.C.
The General Society of Mechanics and Tradesmen, Manhattan, NY
Fordham University Catholic Imagination Conference, Manhattan, NY
Enders Island Master of Arts Conference, Mystic, CT
Fairfield University, Fairfield, CT
Long Island University, C.W. Post, Brookville, NY
St. Anthony's High School, South Huntington, NY
The Plaza Cinema & Media Arts Center, Patchogue, NY
Southampton Writer's Conference, Southampton, NY
Cedarmere, Historic Home of William Cullen Bryant, Roslyn, NY
St. Patrick's Elementary and Middle School Assembly, Huntington, NY
St. Hugh of Lincoln R.C. Church Parish Center, Huntington Station, NY
St. Joseph's College, Patchogue, NY
Cornelia Street Cafe, Manhattan, NY
Galleria Borghese, Rome, Italia
The Stevenson Academy of Fine Arts, Oyster Bay, NY